My fake grandmother…
Nov 18, 2009
This is something that started back in 2006, when I received an email from one Miriam Israel. This Miriam claimed to be my grandmother, and proceeded to ask about details in my life that were not my details, and not my life. I thought a simple case of mistaken identity was made and informed her briefly that she had the wrong person. And I asked her to please remove me from her address book. Unfortunately, she didn't seem to understand, and a few more correspondence took place during that year. I had forgotten about it until today, when it resurfaced. When I looked back across all the based mails, I realized it was kinda funny. So here it is.
I actually do not have the first original mail and my reply. But you will get the idea. She asked me a bunch of stuff, and I replied with something like "Sorry. I'm not your grandson. Wrong person. Please remove me from your address book.". Also, there were a few times when I just didn't respond, and instead I bounced the mail so it looked like a wrong address. The following are the rest of the emails, after the first one.
from: Miriam Israel
to: justinisrael <[email protected]>
date: Fri, Sep 29, 2006 at 2:58 AM

Dear Justin

Received your email.  Why?  What is wrong?  Why areyu s angry?

I WILL NOT ever remove you from my address book – your name is engraved on my heart.  AND you will  always be related to me and all the family here in South Africa and also to te family in Tampa.

Wish you good health, strength and courage and success.  May the coming year be wonderful, better than the previous one.  Love also from Charlene and all of us here.

Love you as always,  hug and kisses for Alex.   Grandma

from: Justin Israel <[email protected]>
to: Miriam Israel
date: Sun, Oct 1, 2006 at 10:07 AM

Miriam,

These are not words of anger towards you… the clear fact is, we have no relation. You have me mixed up with someone else, possibly another Justin Israel?
I do not have any relations in Africa… and for that matter, any living relatives outside of the U.S..
I appreciate your inquiry as to how 'Alex' is doing, but there is no known Alex in my family.

We are NOT related, so please remove me from your emails. If you were actually close to the correct Justin Israel, or this 'Alex', you might know the person's telephone number and how to actually reach your loved ones.

from: Miriam Israel
to: justinisrael <[email protected]>
date: Fri, Nov 10, 2006 at 5:04 AM

Dear Justin, Jill and Alex
I want toknow if Alex has still got  jerseys which I made for him.  Do any still fit him?  What size clothes do you buy for him?  2/3  or 3/4 years?  I made him several more but the maid we had stole them plus other things as well.   I bought more wool today to make him something, so that he will have it,from me with love, before the cold hits you.   How is he doing?  Photographs please!

My arthritis is very bad.  My neck, back, hands and legs are affected, but I still keep on doing things.  It is very hot now with quite a lot of rain.  Errol and Hadassa ae going to Connecticut for 10 days for rabbi's conference for Aish Hatorah.  She will post the jersey to you P.G.  Ari finished his last end of the year exams.  He is exhausted – he has worked very hard.  Lisa is still writing final matric exams and should be finished in a week.

It is almost shabbos so will end with good wishes and love to all.  It would be nice to have an email from you – with answers to my questions.  Please ask Marty to be in touch with me.  Is Mommy well?

As always, with warm love,
Grandma.

How are you Justin, and what is happening?.

from: Miriam Israel
to: justinisrael <[email protected]>
date: Tue, Dec 5, 2006 at 9:43 AM

Dear Justin,
Just got your email, only one.  I did not receive theone with Alex's size and measurement.  Has the package arrived yet?  When it does, please let meknow how the jersey fits Alex.  How are you all?  Let me know what Alex does, says, does at school.  Do you ever take him to shul? If not then shame on you.
Did I tellyou four months ago that Leanne had twins, boy and girl at 26 weeks.  They wereminute.  Had to be in ICU for three months.  They have beenhome now for one month.  Still verysmall but puttingon weight and crying crying crying.  Leanne does not get any sleep as she is busy with them all day.  She does not have a maid.  Suzanne and Elise help her when they can.  They are both working.  Suzanne is leaving her teaching post this month.  She will teach privately at home, needs the money.  They are called Binjamin (in Hebrew) and Batya after Leanne's father.
Hadassa and Errol leave N.York tomorrow and will be home P.G. on Thursday.  Pity you could not see each other!
Please keep in touch. Hope you enjoyed your birthday.  Wish you many more happy, healthy and successful years to come.
With much love and hugs for Alex and you both.   
Grandma.

from: Justin Israel <[email protected]>
to: Miriam Israel
date: Wed, Dec 6, 2006 at 9:12 AM

Oh dearest Grandma,
It pain us so much to say, that poor little Alex has lost both of his legs.
His size is now only 3 feet tall, and he must be pulled in a small radio flyer wagon that we had found at a garage sale.
We are looking for the money to buy him robotic legs, similar to the movie Robocop, but this procedure is expensive, and it does not come with the gun holster, like in the movie.
Please mourn this tragedy with us.
Not your relative,
Justin

from: Miriam Israel
to: justinisrael <[email protected]>
date: Mon, Dec 25, 2006 at 7:12 AM

Did you send this?

from: Justin Israel <[email protected]>
to: Miriam Israel
date: Mon, Dec 25, 2006 at 5:25 PM

Ah yes.

Yes I did send this. Did you finally receive it?
Are you slightly confused? Well maybe if you would listen to people instead of rambling on and living in a fantasy, you might have realized much earlier that I am not related to you, and that you have an incorrect email address. I decided, once you persisted to email me, that I would get your attention once and for all, and make you understand that you are not my relative.
Glad you finally figured this out.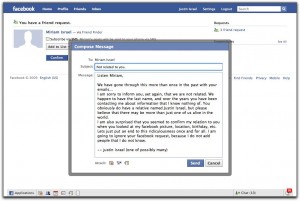 ---
Update:
My co-worker, could not let this situation go in her mind, and has hunted down the real Justin Israel: http://www.facebook.com/justinisrael2
I totally beat him to getting the first facebook perma-link for our name.